My husband is from North Carolina so he has lots of family here. I, on the other hand, don't have any family here in NC. Most of mine are in California and scattered everywhere else in the globe. So imagine my excitement when I get a call on Saturday morning from my Dad's cousin who said that they are here in NC visiting her son (cousin Dan) who just got back from Iraq! They are going through Durham, so could they come by and visit? Was I excited! I don't ever get any visitors….well, not that totally pathetic, but my family doesn't just drop in on me.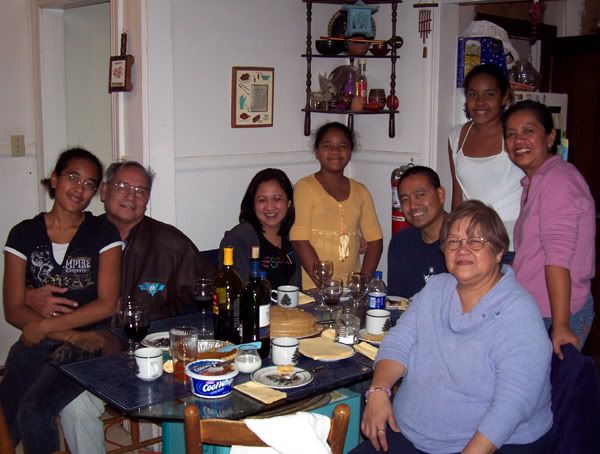 Who knew! The last time I saw cousin Dan was over 20 years ago when he went into the military soon after graduating from High School. My Aunt and Uncle, I hadn't seen in years either since I moved away from California. So now Dan and his wife Espe are living only an hour and a half away and may be here for a while, at least until he gets deployed somewhere else. I hope now we'll get to see them more often.
So since they called at the last minute, all we had in the ref are Thanksgiving left overs. I was trying to decide what to cook for dinner and husband suggested that I cook some Filipino food since I didn't cook any of my usual dishes like pancit and lumpia for Thanksgiving. I quickly nixed that idea because of time and besides, I didn't have all the ingredients handy. Besides, my aunt and uncle are terrific cooks and my paltry attempts at Filipino food would be just pitiful compared to the dishes they prepare.
I decided to go with my usual Southern/Asian fusion menu and served this:
Smothered Pork Chops
Chicken Curry
Greens with cured Ham
Brussel Sprouts with Garlic and Olive Oil
Rice
Sweet Potato Pie (left from Thanksgiving)
Caramel Cake (also left from Thanksgiving)