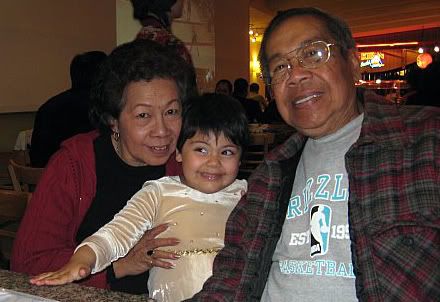 One trend in Philippine society, because of its lagging economy, is for its people to seek employment abroad. The government boasts that its greatest resource is its people. The income generated by OFWs, Overseas Foreign Workers, is said to account for a sizable percentage of the national income. Not only do the worker's families benefit from the income earned abroad, but the nation's economy is boosted because of this.
So mothers and fathers leave their children behind in order to give them a better future. My parents were among the millions who have been doing this for generations. My father left to work overseas the very same day that my youngest sister was born. He barely caught a glimpse of her before running off to catch his flight. This is the only way he could have supported a family of three children. His civil servant position did not pay enough to support us. He knew that.
A few years later, his contract over, he returns home to find his youngest child afraid of him. It took her a while to warm up to the father she didn't recognize, and it broke his heart.

My mother was next to leave. When I was eight, she got a chance to go to the U.S. Without promising prospects at home, she jumped at the chance and left us behind. She would send money for our school, and anything else we needed. She sent packages that smelled of America full of candies and toys and clothes. But she wasn't there. We were raised by the house help we were able to hire from the money she sent and by relatives who checked in on us often, but still different from when mom is around.
I was 12 going on 13 by the time we joined my mom here in the U.S. By this time she and my father have separated and she had remarried. She didn't really know who the teenagers who are about to descend on her. We didn't really know her either. It took a while for all of us to fall in the groove.
So I know this mother's pain when she talks about the kids she left at home. It brings tears to my eyes being a mother myself and imagining how it would be if I were to leave my babies behind. She sang this song for them. Watch this video of a Filipina Mom on Britain's Got Talent.
Whether she does well in the competition or not (I hope she does), she has already touched so many people who can relate to what she is going through. I pray for her as I pray for millions like her that a day will come when mothers won't have to leave their children in order to be able to provide for them.