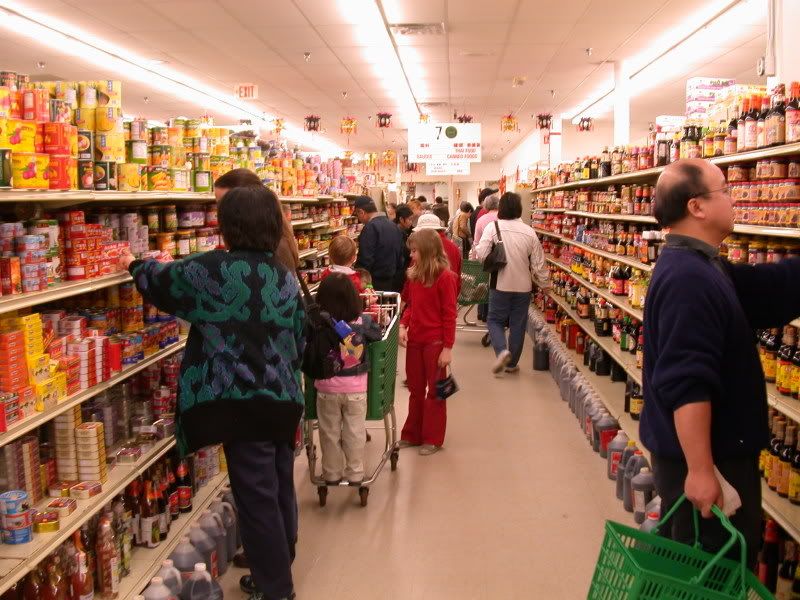 Saturday was a beautiful day to be out and about and that is just what we did. We got out of the house earlier than we normally do on weekends. We first stopped at my job because they were having a company yard sale and there was a desk chair I wanted to buy for $10.
Anyway, after that, we drove to Cary in search of bento boxes for a food blog challenge I'm supposed to submit an entry for. First we went to Toyo Shokuhin & Gifts. Since their name says 'gifts' I thought they would have a bigger selection of Japanese items, but they didn't. It was just a small corner of the store that they had the usual kitsch items like tea sets, dishes and the like. They had one bento box, but it was way over priced as is much of the items in the store. Most of the items they had, you can get at other Asian markets at a lower price. Jade did buy a couple of packs of cookies at about $2.79 each and they were very good.
So we went to to look for the other Asian market that I haven't been to yet, Grand Asia Market. Boy, was it grand! It was crowded! But then, it was Saturday morning and the weather was gorgeous so I guess it was to be expected. The aisles were packed and there were long queues at the seafood section, but it had a festive air to the whole place. It could also be that since it was our first time there and it was all new to us, that it seems festive in its novelty. Maybe it will eventually wear off. lol!

They didn't have bento boxes, but they did have some cute containers that could be used for bento and they had an onigiri mold (for making rice balls), so I got those. After browsing their housewares section, we moved on the the main grocery area. First the vegetable section where I got some gai lan (chinese broccoli) and snow peas. I was looking for baby bokchoy as the girls love them, but what they had looked wilted so I didn't get any. We did get to the seafood section and got a couple of tilapia, squid, milkfish and shrimps. We fried the tilapia and squid as soon as we got home, they were yummy!
Towards the front of the store is a small eatery and bakery. The girls were happy to find that they had bobas (pearl tea) so we all got one except for the Clone who opted to wait for a milk shake from McDonalds. Since it was the weekend, they were also selling tofu soup both in savory and sweet version. We got the savory one to try, but we're determined to go back for the sweet version next time. They also had baos made on site we got a couple each of the pork and quail eggs, pork and vegetable and just plain vegetable. They were all very good.
We'll definitely go back there again. Especially since it's closer to us than the one we usually go to in Garner.