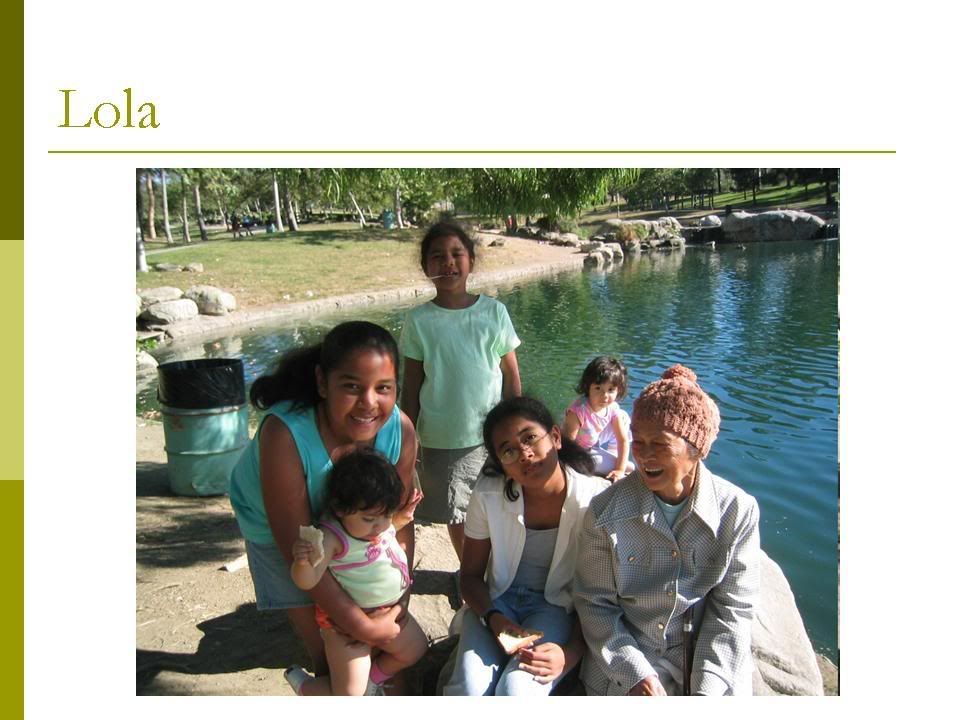 2009 begins a new chapter in our lives. The chapter without our beloved lola (that's what we called our grandmother). Just as she lived, she silently and unobtrusively left this world on the third afternoon of this New Year without much fanfare. She was the quiet presence in all our lives. She hovered over without us realizing and now that she is gone there is that silent void that will forever remain unfilled for there is no one else like her. I'd like to think though that there is a little bit of her in everyone of us whose lives she touched and watched over.
I have quoted my lola often in my writings and musings online. I found that the older I got, her teachings, all the unsolicited advice doled out over the years, were finally taking on meaning in my head and slowly taking root in the way I live my life. Whereas they were quickly dismissed as being old fashioned and out of touch at the time they were given, they are making sense to me now. She taught me a lot without the intent to teach, she taught simply by living the only way she knew how.
So let me share with you some of the things I learned from our lola.
From our lola, I learned to LAUGH. She loved a good belly laugh even when it is at her expense.
From lola, I learned PATIENCE. Even in the most exasperating circumstances, this woman's patience was endless. She didn't mind waiting. Waiting always made the reward sweeter for her. Whenever you get snippy with her or have tantrums, she'll just wait it out until you calm down. She rarely raised her voice or lost her temper.
She taught us the merits of VICKS AND WHITE FLOWER. They cure everything from a headache to fungal infection. Or so she claims.
From our lola we learned to love KAMOTE SALAD AND DINENGDENG and consequently, bagoong. I think that's why all her great grandchildren love to eat their vegetables. She taught them that eating fresh and simple is still the healthiest diet in the world.
She taught us all about FAITH. She taught us to have faith in life, your family, your fellowman and faith especially in the Lord Almighty.
She loved to CROCHET AND MAKE THINGS WITH HER HANDS. She taught her granddaughters the pleasure of making something rather than buying it. My daughters loved to make dolls with her and to this day they are still making 'lola dolls'.
Lola loved SEAFOOD. Fish shrimps, clams, crabs, you name it. When it's on the table she lights up like a little kid at Christmas. She passed that passion on to all of us too.
From lola I learned that to be SELFLESS AND LONG SUFFERING is OK. It doesn't diminish my worth as a woman , it simply adds dimension to my being. As mothers we do make sacrifices, lots of them. Although I always hated it and cringe every time she would say "But sometimes you have to sacrifice", I am undeniably doing just that no matter how I may try to call it something else. She was right.
From lola, I also learned some FASHION SENSE. I learned there really is an art to layering. And that's all I have to say about that.
I also learned that a LEFTOVER IN THE REFRIGERATOR IS OK TO EAT even after a week. No matter what the experts tell you.
Did you notice how many references to food in on my list of 'lola memories'? That's because she loved to eat. Eating is like a metaphor for how she lived her life. Always keep it fresh and simple. If life were food, she would eat it with relish and yet reserve the best parts for her children and only take for herself what no one else wanted.
The greatest lesson I learned from this humble woman is TO LOVE WITHOUT CONDITIONS AND WITHOUT END. Her most precious gift, and thank God for this because we're a family of women, is how to be a MOTHER.