The White House Playground
Y'all can keep the debates going regarding the economy, the war in Iraq and all the other things dominating the media. I am not an expert on them and I only hold a lukewarm interest in listening to others hash them over to death. But whether it's news worthy or not (some naysayers are grumbling about this on the original article), I want to post here that Malia & Sasha got a pleasant surprise this week. On Wednesday when they got home from school, they found this cool play set waiting for them!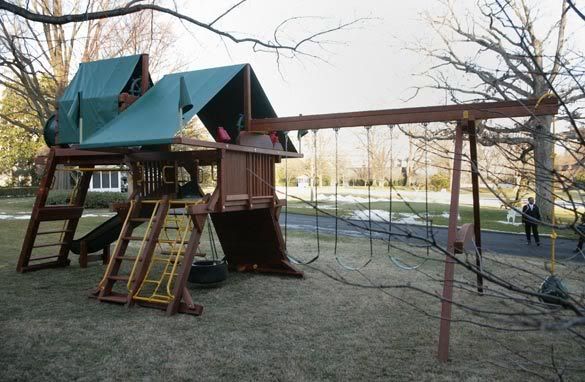 I think it is such a refreshing change to see the White House with a playground in the backyard just like most American homes. I'm not sure how much time the girls will be able to spend playing on it once the paparazzi starts focusing watch on the playground, but it's a good idea anyway. It's every child's dream come true and these girls are living the ultimate!
Good for them and good for their mom and dad for thinking of this. Bah humbug to all the naysayers!