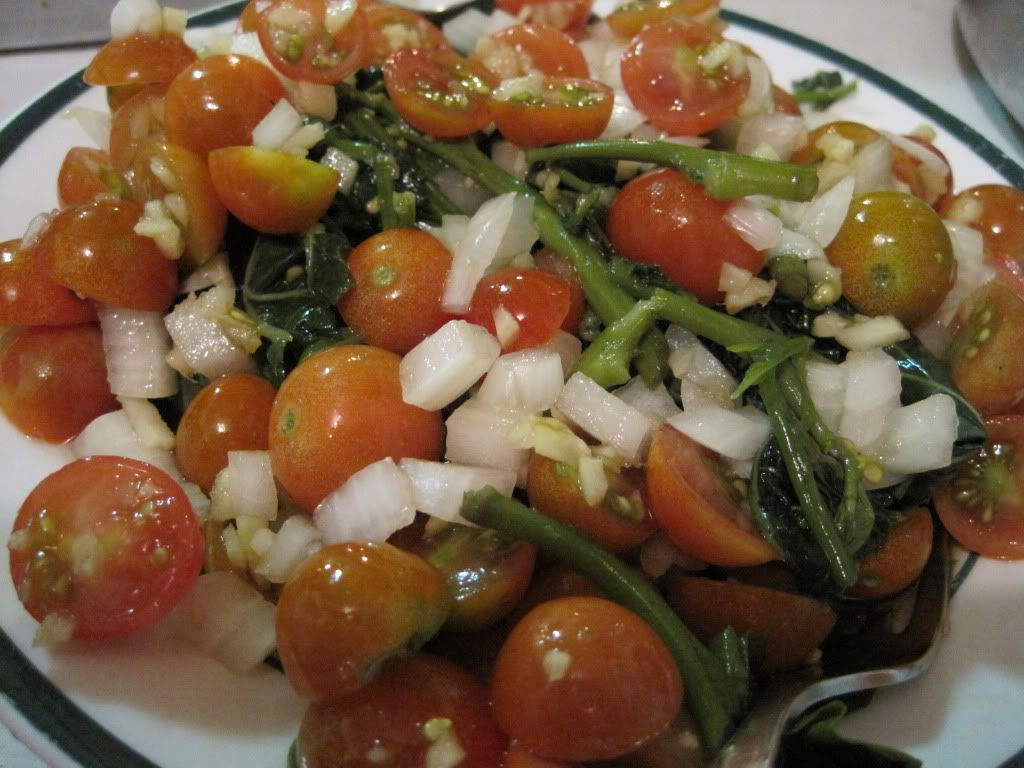 The theme for this week's bloghop is YOUR FAVORITE RECIPE. It has been a very popular topic and Brent is compiling all the recipes submitted into a book. If you'd like your recipe in the book, make sure to also submit your recipes to http://www.mcklinky.com/recipes.asp.
We have too many favorite recipes to mention, just take a look at our food blog to see some of them so how about the latest favorite that we made? This salad, we only make during the summer when our garden produces the sweet potato leaves used for this salad. Yes, you heard me right, sweet potato tops! My grandmother loved this salad and would always make it for us. Sadly, she passed away earlier this year and me miss her tremendously. It brought tears to my eyes when my daughter Asi asked for this salad earlier this summer and referred to it as "Lola's Kamote Salad". Lola means grandmother in Pilipino (the language spoken in the Philippines) and Kamote is the word for sweet potato or yam.
It just made me happy and sad at the same time that we get to remember her this way. I love how we associate so many memories of her with the food we continue to make and eat in her honor. So on to the recipe!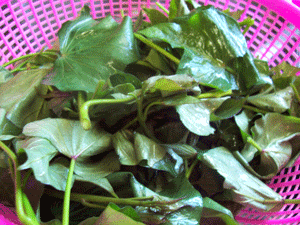 When picking sweet potato leaves for this salad, I only pick the tops. The ends with the youngest and most tender leaves. To collect sweet potato leaves, find the tops of the plant and cut about a foot from there. Then trim up farther by cutting the most tender top, about 4-5 inches from the top. You can tell when you snap or cut into the stem when it gives way easily and snaps off. The rest of the leaves, I cut off from the hard stems and discard the remaining stem. Wash the leaves thoroughly.
Fill an appropriate sized pot halfway up with water and bring to a boil. Blanch the leaves just until they wilt and change colors. About 2-3 minutes. Drain them from the water and rinse with cool water or dunk them in a bowl of iced water to stop the cooking and so they retain the bright green color.
For the dressing:
2 cups Tomatoes (chopped into cubes or in this case, cherry tomatoes halved)
½ of a small Sweet Vidalia Onion, choped
1 Tablespoon of fresh Ginger, minced
1 Lime, juiced
4 Tablespoons Fish Sauce
Mix all the dressing ingredients together and pour over the sweet potato (kamote) greens. Lightly toss with a fork to distribute the flavors and serve.
We like this as a side whenever we have something fried like fish or pork chops but it is also a great salad to have by itself especially when you get really fresh and sweet tomatoes like the ones we used here.
Visit the other bloghop participants below to see more great recipes!