We all have our own style of parenting our children and probably foremost in our method of parenting is the way we keep the lines of communication open with our children. I recently asked readers, "how you communicate with kids?" and the response has been varied and valuable. I didn't want to keep them to myself, so I thought I would share some of them here with you.
If you'd like to enter the giveaway, there is still time. The giveaway ends on September 4 and you can win a $200 Visa Gift Card just by telling me one of the things you do to communicate with your kids. (Click on the link to enter the giveaway.)
One of the most popular responses to the thing we parents do to communicate with kids, is to eat together. I've always believed in eating together and we try to do it as often as we can although in this busy and hectic world we live in now, it's not always possible.
In order for us to be able to eat together, I try to cook simple meals that the girls can help me prepare. When we work together, we can have dinner on the table in an hour. We don't always have scintillating conversation with dinner. Sometimes it's just inane small talk, other times it's snappy bickering but either way sometimes it leads to topics we didn't plan on discussing. More often though, it's just our way of catching up with what we've been up to.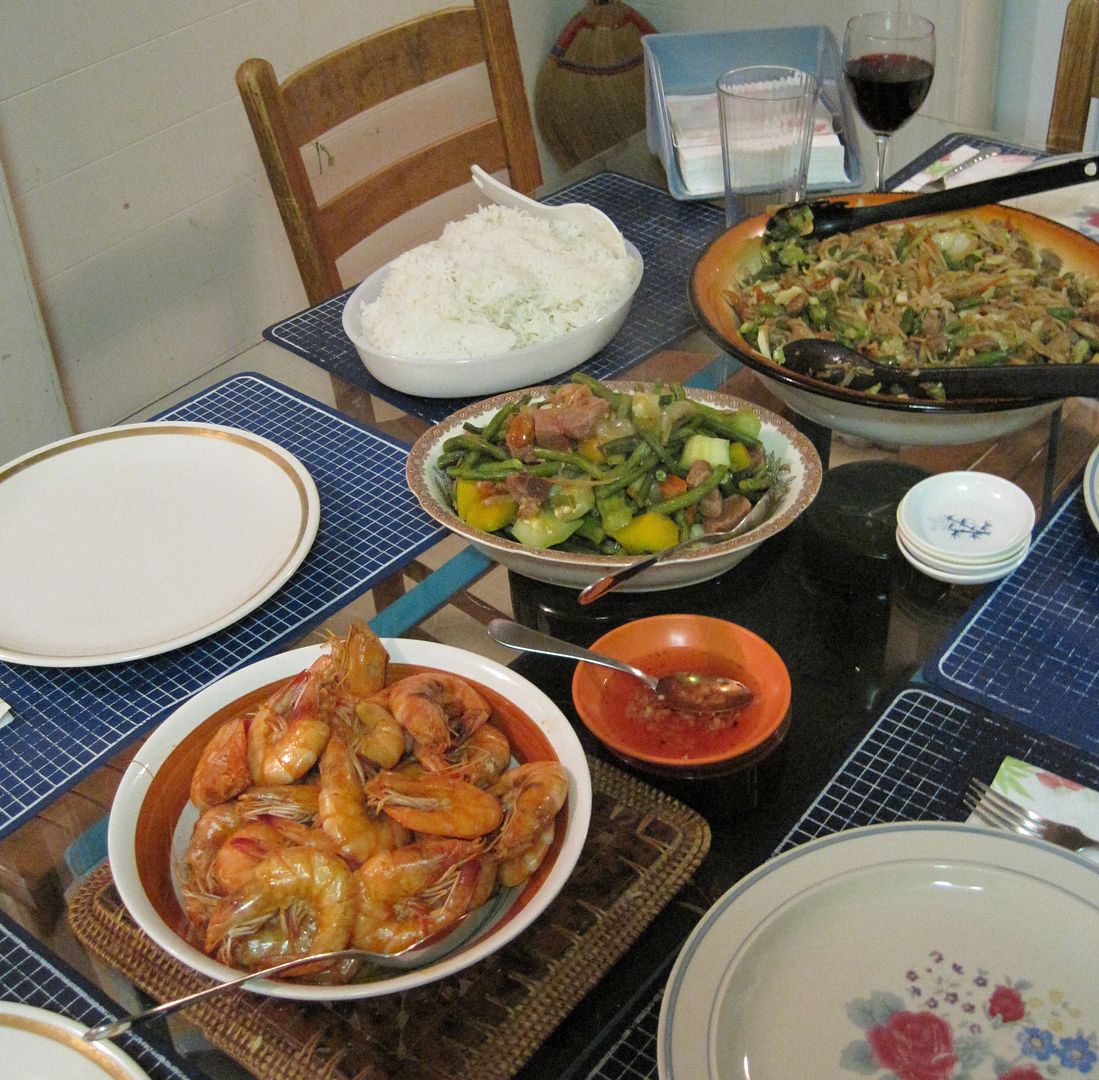 EAT TOGETHER
There was an old wall hanging in our dining room when I was a little girl and it said, "The family that eats together stays together". Dinner time, sometimes the only time that everyone is together, is a great time to catch up on what's going on with everyone as these parents can attest to:
Lisa Says:
We eat dinner with our kids and talk to them. We shoot for every night. My kids are still little, but we figure if you start young, they will always feel that they can tell us anything.

cathy Says:
We eat dinner together and do a lot of texting.

Jayne G Says:
Who can resist talking while baking together! Works every time.

Kristi G Says:
No matter how busy we all are, we make it a point to eat dinner together every night. It helps keep us grounded and the lines of communication open.

Jamie Z Says:
We spend time together every day at the dinner table with no tv or distractions. We talk the whole time and love it!

Pat Connors Says:
We always make sure to have a meal together, usually dinner, if not breakfast.

Dawn Says:
Every night at dinner I put the focus on my daughter and have her tell me and hubby about her day or anything she is concerned about.

carole rossi Says:
Turn off the tv, computer and put the cell phone away and turned off. Sit down at one table and eat at least one meal a day together. Make it pleasant conversation.

Karen Says:
At dinnertime we play a game where we go around the table and tell the rest of the family what was the best and the worst thing that happened during the day. We invariably end up having conversations about some of the things that come up, and it helps us all stay on top of what's going on with the rest of the family.

Chrissyb Says:
Family dinners at the table always open the lines of communication in our family.

Yefi Says:
I keep communication through dinner by inspiring good discussion and not being forceful or demanding of them. It is a relaxing time!

Jen B Says:
I know it's coming – dating, mass transit, sleep overs, road trips for team sports and late rehearsals for performing arts. For now, however, we communicate face to face. The girls are only 6 & 9. We eat our dinners together as a family with no TV, telephone or texting to interupt our live conversations. Here we catch up, plan ahead, share our thoughts and sometimes our dreams.

Is the cell phone in their future. Probably. It's tough to imagine a teen without one, and in 10 years, they'll probably be implanted! 🙂

Linda Says:
Definitely eating supper (dinner) together. Devotions together. Being open to when they want to talk, even if I'm busy.

Tamara B. Says:
I still have a 14 year old son and a 13 year old daughter at home. We make it a point to eat dinner together at least five days a week. We have a family movie night once a week and each one can invite one friend. I love spending time with my childen and it keeps us close plus we can talk to each other about anything.
Are there things you do to facilitate talking to your kids? Do you cook and eat together and does this time work for you in terms of getting your kids to talk?
Stay tuned to the rest of suggestions left by our readers.


The How to Talk to Your Kids Series:
1. Eat Together
2. Individual Time
3. Talk About Anything Anywhere
4. Learn Their World
5. Start Them Young
6. Listen, Don't Judge and Be Honest
7. Unique Conversation Starters