The bottom line of talking with your kids is to simply TALK. Start talking when they're young, talk wherever you are and whatever you're doing. Keep talking until you're blue in the face and one day they will listen and it will all be worth it.
As important as talking, you also need to learn when to shut up and listen. I'm learning that we all need space but especially teenagers. Sometimes they just don't feel like talking. Sometimes it's enough that they are sitting in the same room as you.
UNIQUE CONVERSATION STARTERS

It's easy to say just start talking but it's not always easy to do. Sometimes we have to find other ways to get the conversation going. Some of the comments on our post about communicating with your kids generated a collection of unique and creative ideas to kick start communication with your kids.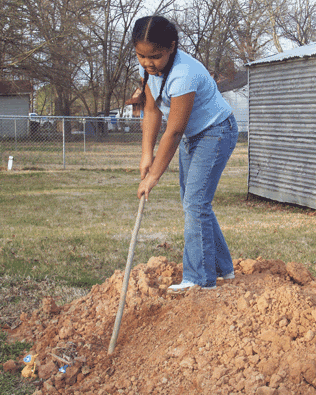 WORK TOGETHER
Tricia Says:
help them clean their room! Usually takes an hour each. Lots of conversation can happen in an hour
Any kind of activity can be a great conversation starter. You may start out not talking but the more time you spend with each other, working or playing side by side, it comes naturally that a dialogue is soon to follow. My daughters and I have had some of our most revealing conversations when we've had our head down, concentrating on a task. I think sometimes when you're not looking at mom and dad directly in the eyes, sometimes the words come easier. It's like talking to yourself or to the wall, but you know someone is listening.
WRITE IT DOWN
One of the most creative suggestion I heard was the comment below from Ginny.
Ginny Says:
My kids are 8 & 12. We have a pretty open policy with talking & my husband is great with talking about sensitive topics with our girls. They always feel comfortable going to one of us luckily. We use email, cel phones & then a family notebook to communicate. The family notebook, is just a spiral notebook that anyone can stick a note in. We just keep it till it is full. It is also nice to keep it because it is like a little snapshot of our life at the time.
I love the idea of the family notebook! My daughter and I used to do this but privately, in her journal. When she was younger, she would write stuff in her journal and she would leave it by my bed to read. After I read what she'd written, I would write a response and put it back by her bed for the next day's entry. The entries and replies didn't have to be long, it could be as simple as me saying "I'm glad to hear you had a great day" or "Aw, that sucks!".
But when we felt inspired, we could write entries that are a couple pages long. It just depends on what we were thinking at the time.
We don't journal anymore, but when I look back on the old journal and read some of the things we wrote down and talked about, it just makes me so glad that we have that to remember that time of our life.
Now I wish we had made the journaling idea larger to include the whole family as Ginny suggested. Well, maybe it's not too late to borrow that idea. Now that the girls are busier and have more things going, a family notebook may just be the thing to keep up with what everyone is doing.
Do you do anything unique that encourages conversation or even another way of communicating besides 'just talking'? I would love to hear about it!


The How to Talk to Your Kids Series:
1. Eat Together
2. Individual Time
3. Talk About Anything Anywhere
4. Learn Their World
5. Start Them Young
6. Listen, Don't Judge and Be Honest
7. Unique Conversation Starters