Good thing I didn't commit to any of the everyday/356 blogging projects going around, because I would have fallen off the wagon already. I really did have the best of intentions to start off this year right. I was going to cook up a storm on New Year's Eve then stay up all night blogging about it and wishing all my friends well for the New Year. Ah, they were grand plans!
I had such high hopes and I almost pulled it off! I did cook up a storm worthy of the winter wonderland we were blessed with on Christmas. For the New Year Eve's supper I had lined up a surf and turf meal (ribeye steaks and shrimp scampi) complete with loaded baked potatoes or rice, a huge salad and I forget now what was dessert, but I know we had something. I can't remember because beyond getting all the food prepared, everything quickly became a faint and hazy memory. See, as soon as I pulled the steaks off the broiler, that damned migraine, the one that I don't usually have to mess with but once a year, decided to strike before I could put them steaks down and it struck hard! You'd think something jumped out of the oven and hit me over the head!
I heard dinner was great and the girls got to talk to all our family in California via Skype. I heard some mini sausages even got fried into mini-corndogs and they were great.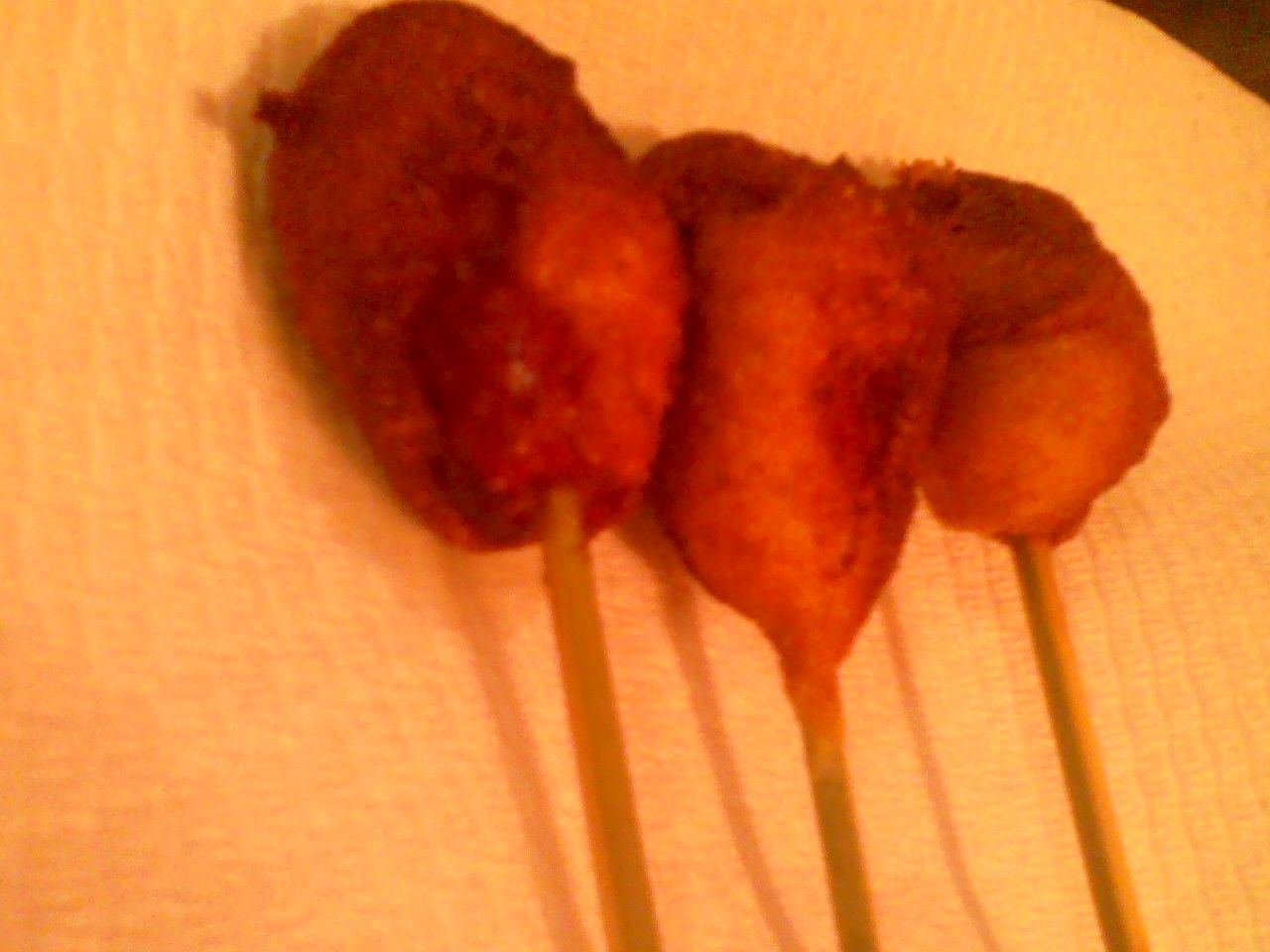 I wouldn't know. I was splayed out in bed, my arms over my eyes and wishing sleep would claim me and save me from the torture. I woke up on the first morning of the New Year still with a pounding headache despite several Tylenol pills.
I stayed in bed for most of the day, but I couldn't possibly let the first day of 2011 go by with me lying in a darkened room and nothing cooked, could I? Of course not!
I dragged myself up and called up my girls who turned out to be troopers. Way to start the year, girls! Between us, we managed to keep the kitchen clean and put together a pretty decent first dinner for 2011.
We baked some cornish hens but not with the sweet glaze or rice stuffing as we did in the recipe posted on our blog. It was just plain roasted like you would a turkey or chicken. By the way, don't you just love how the six cornish hens fit perfectly in the paella pan?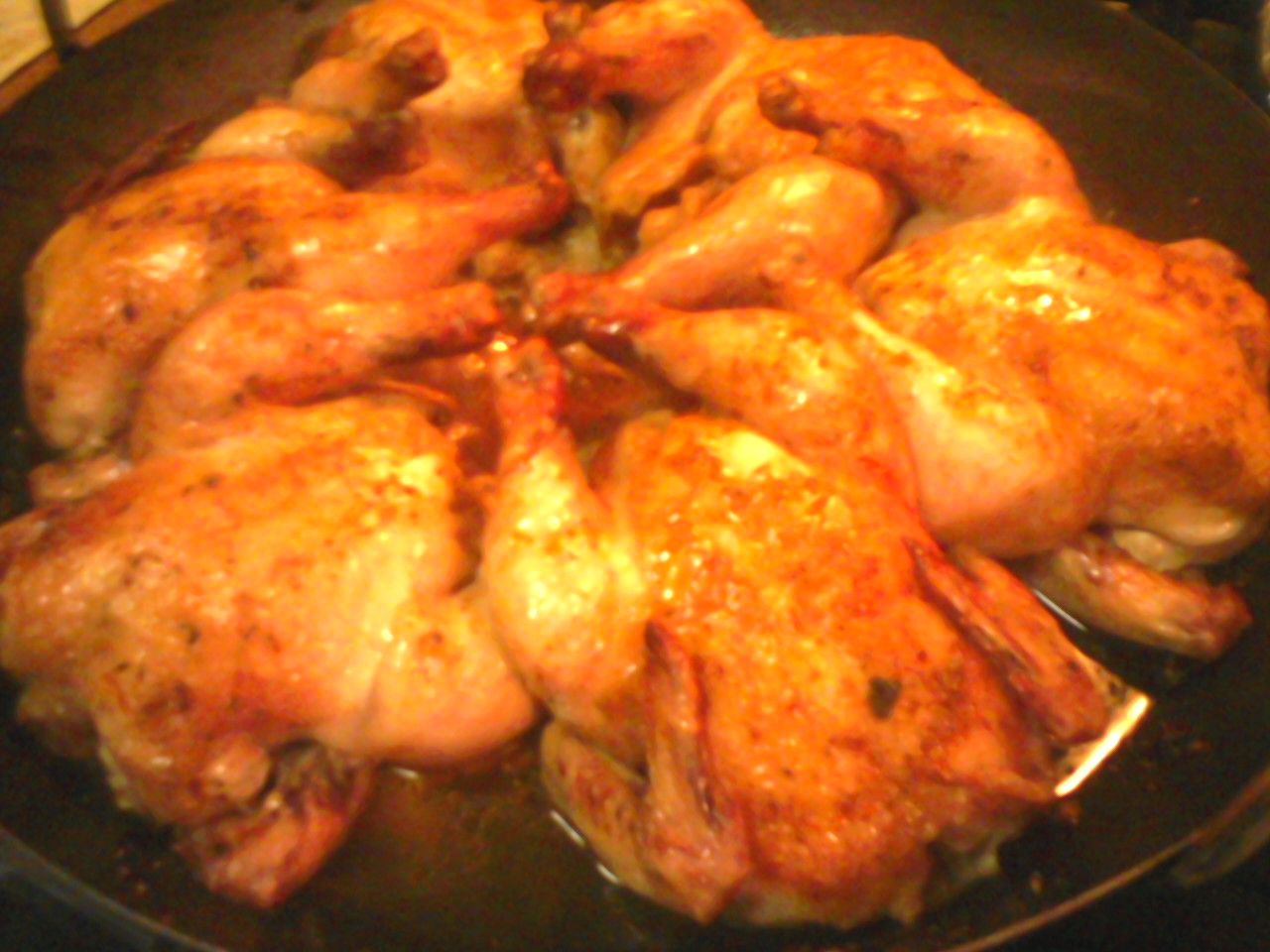 In addition we also had some cornbread stuffing, black-eyed peas, steamed broccoli and cauliflower, and gravy. Oh don't forget the canned cranberry jelly! So shoot me. lol! they were good and we found a can in the pantry, so there!
After dinner though, it was back to bed for me and for the rest of the weekend all the way into Monday when I finally got to see my doctor to adjust my meds and all was made well again.
So today is officially my first day of the New Year. I got out of bed with just a trace and fading hint of a migraine, the sun was shining, I got dressed and got to work and nothing disintegrated in my absense. All is good.
Happy New Year! And here's to more days like today!
P.S. excuse the photos, my daughter took them from her cell phone. It was just too much effort to pull out my camera and plate stuff.