ME, ME, ME, ME!!!! Moms hear that all the time but it's not often that you hear MOMS say it. Sometimes mothers lose the ME in the course of taking care of everyone else. We look up one day and ask, "Where did that girl go and who is this crazed woman?"
Well a couple of years ago I started noticing changes in my body. I figured, "Well I'm 45. I guess it's to be expected." What I didn't realize was how fast those changes multiply once they start coming on! Some days I wake up to look in the mirror and wonder who that old woman is looking back at me. On days when I'm half asleep I imagine my mother has come to visit!
Then it dawns on me that IT IS ME! It's an older more mature me. The me who never worried about her looks much suddenly finds herself wanting to know more about this new ME and learn to love her as much as the old ME. Some days it's hard and others it's utterly depressing. I want to love this new me. I never did care for middle aged women who want to stay as they were in their 20's and will do anything to do it including surgery. Lately, I am more sympathetic. I can empathize now but I don't want to go that route. I'd like to take the road to "aging gracefully" instead.
All my life I have been lackadaisical about my beauty. I have never considered myself vain and had never really cared for all the trappings of being beautiful. Sure, I cared how I looked, I liked to wear nice things, I battled to tame my hair and I love shoes; but it was never a priority. I never obsessed over brand names, never really cared what kind of lipstick or make up I wore, and even shoes that I loved, I chose first for comfort than for style. I still don't. That's not my goal for starting this Meme.
It seemed fortuitous that BlogHER, for 2011, started a campaign called Own Your Beauty:
Own Your Beauty is a groundbreaking, year-long movement bringing women together to change the conversation about what beauty means. Our mission: to encourage and remind grown women that it is never too late to learn to love one's self and influence the lives of those around us – our mothers, friends, children, neighbors. We can shift our minds and hearts and change the path we follow in the pursuit of authentic beauty.

I was inspired when I read this post about a woman acknowledging herself by taking a photo everyday. She had the hardest time photographing herself and liking them. I think I'll have the same problem. There's very few photos of me that I like. But I admire bloggers like her who put themselves out there because when you do, it also forces you to look at yourself closer.
I know I can't do it everyday, and if I do it once a month, I would probably forget about it so I'm pledging to do it once a week. Once a week I will take/post a photo of ME or parts of ME or anything on ME and say something what I like about ME in that photo.
Adela, who acknowledged herself for the Own Your Beauty campaign ended her post with her behind so I thought I would start off this goal with mine: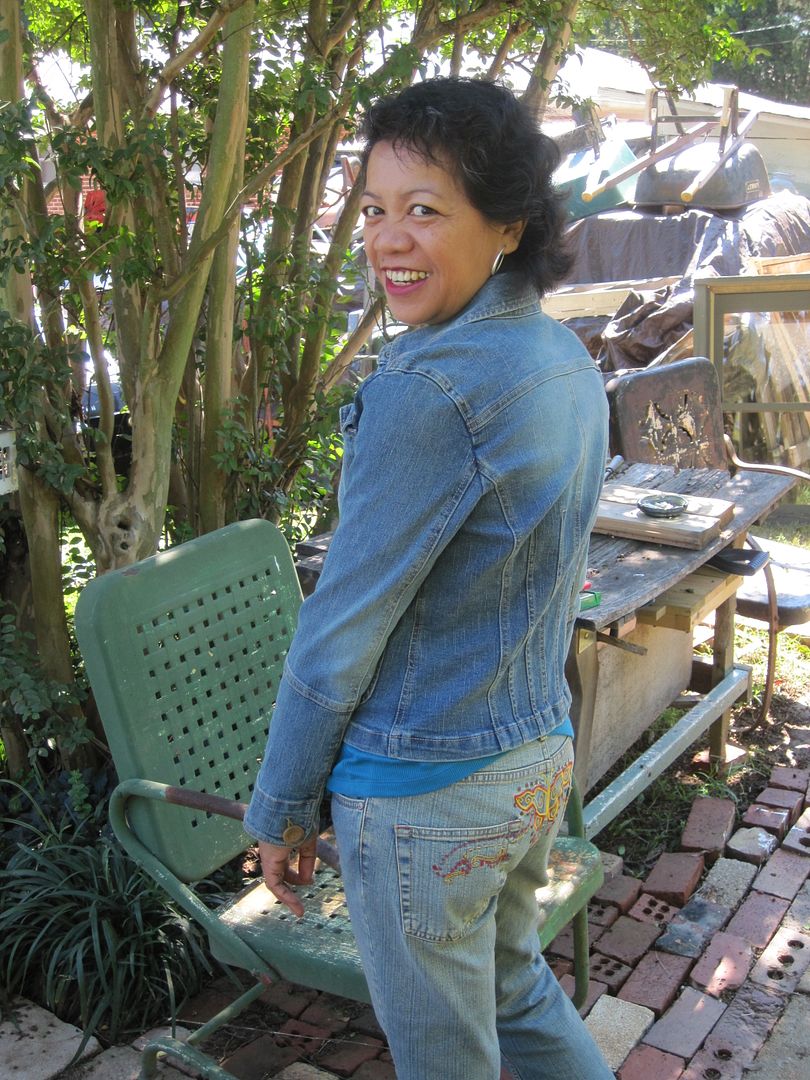 I like this photo because it shows how much weight I've lost which is good for my blood pressure and diabetes. My junk was a casualty, but that's ok. I guess I need to add working out to my list of goals this year.
Want to join me in the weekly ME appreciation? Just leave your link below so we can visit each other.