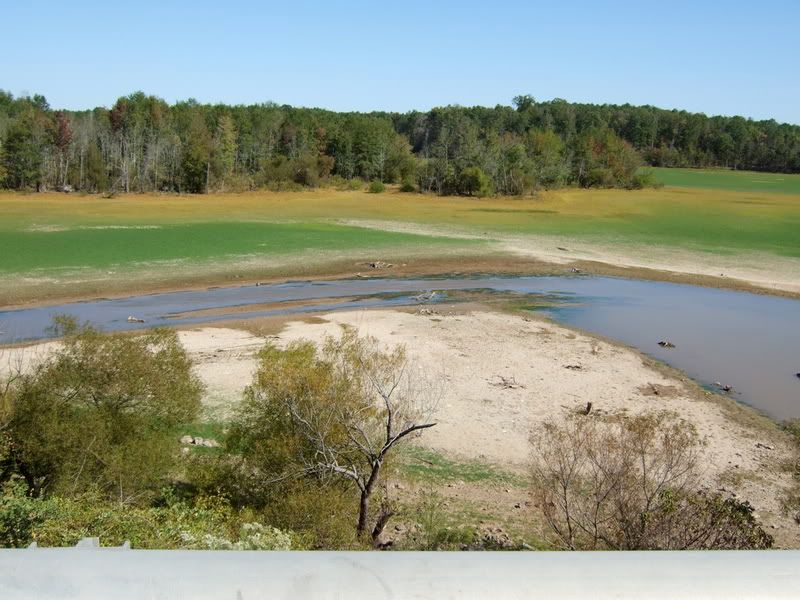 photo credit: I Love Durham
Saturday was dreary and cold. Then it started to rain. And I was happy. I was happy even though it was dark, cold and wet because, well, we needed to get wet! We need to get drenched!Durham and most of North Carolina has been in drought conditions for at least a couple of months now, and we, Durham especially, are running out of water. See the photo above? I borrowed that from the
I Love Durham
website since I didn't have my camera with me when we went by another major lake last week.  There is very little difference in how they look though. Most of our lakes look like this lately. The photo is of Jordan Lake south of where we are, it was also a major body of water before the drought. Now it looks like a mere brook slicing the river bed and grass has actually started growing on the banks. This 'lake' should be full of water all the way to the line of trees in the background. Pretty scary thought for a pretty picture, isn't it?
It's even scarier when you realize the magnitude of the drought problem. WaterTechCrunch looks at the water problems that many states in Southeastern United States are facing. We are not alone. This is a huge problem! And yet, it seems like many people here in Durham are quite complacent about it or just don't realize that it is a problem. I'm not sure if it's ignorance or apathy? But it just seems like it's not a big deal to most people around here.
I guess I have been moaning too much here and there about our dwindling water supply. What can I say, I love water! Scary, but we have just a little over a month's worth of 'premium water' according to the City's website.  So a friend sent me the following inspiration to give us hope:  It must be God
God help us!