Thanks to all the mother's day wishes and prayers for my grandmother's good health. I really appreciate all your visits and comments even when I'm away.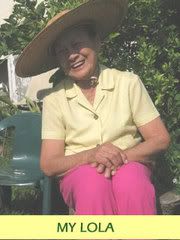 I went to visit my family in Los Angeles, CA last week because my grandmother was in the hospital and was about to undergo surgery. Given her age and condition, we were not sure how she would fare the operation so I wanted to be there to see in case anything happened. Luckily, with her strong spirit and prayers of people who care about her and even those who didn't know her, she came through the operation fine. It will take a miracle for her to beat what's ailing her now, but she believes in miracles and we do too. I believe in the miracle that is she.
She is a woman of great faith and it sustains her. She exhibits admirable strength in body and spirit and is a great example to us all. She truly is the mother of all mothers. We are a family of women after all.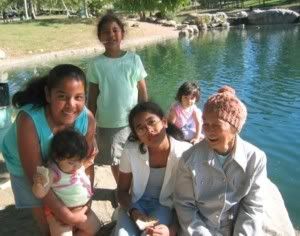 To all my fellow moms out there, I hope you had a happy mother's day. To all who are lucky to have mothers in their lives like my mother and grandmother, I hope you honor them everyday that they are in your life and not just on this one day, for life is short and we often do not realize how valuable someone is until we lose them. I am thankful I haven't lost her yet and I pray that we will have more days with her to learn from her and bask in her love.