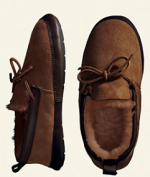 I was visiting The Coyboy's Wife and found out that she is having a Land's End Giveaway. She is giving away a very pretty red woman's slippers, a fleece pajama set and these men's moc slippers. My first instinct was the pajamas. My daughter would love to have one of those fleece pajamas. I wouldn't have minded the red slippers either.
Then I realized, my poor husband doesn't have good slippers and I didn't even think about it until much later. I felt bad. I remember a time when he came first on my shopping list and any other lists. Now 17 years and 3 kids later, I realize I have kind of put him on the back burner. Poor thing just doesn't come up on top of very many lists lately. I hear this is what happens to old married folks, but if you told me this 17 years ago I wouldn't have believed you.
Our anniversary is coming up in a few days. We probably won't be going anywhere just the two of us. We've just gotten in the habit of always having the girls with us for any celebration, birthdays and anniversaries alike. We don't have a lot of time to be just the two of us anymore and I don't think either of us mind. We both like having our girls with us. However, I think we do need to work on making each other more of a priority. We need to hike each other up a little higher on the list if you know what I mean.