It's the first day of school for my girls and they all actually got up on time this morning even though they never really adjusted their sleeping schedule and were still living like vampires up until this weekend. They were actually glad to go back to school, I think. I know they're looking forward to seeing their friends again.
The only one not too happy this morning is my youngest daughter who is starting middle school. The school she's going to now is much bigger than her elementary school and it's a magnet school so the kids that she went to school with since kindergarten won't be there (except for 2 that we know of). Everything is brand new and she is a little nervous. Well, maybe a lot more nervous.
She is excited about her classes though. She's finally getting to choose her electives and I think that made her feel more grown up and in control. She's going to a magnet school with a concentration in the arts so her electives this semester are 3D art media and piano; then she has her usual core classes. I can't wait to pick her up this afternoon to see how she fared.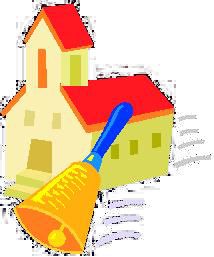 While visiting other mom bloggers and seeing how they are coping with the back-to-school experience, I ran acorss these useful back-to-school tips for dealing with your child's teacher from MomSpark:
Don't gossip and don't go behind the tearcher's back. Make her your ally, not your enemy.
Do be open and honest with the teacher. Stay positive, not defensive. Tell her your expectations for your child and that you're willing to work with her to accomplish your mutual goals.
Do give the teacher a head's up on anything major going on in your child's life ( ie: divorce, a death in the family, etc) with a quick phone call or stopping by before or after school. You would be surprised at how many parents don't do this!
Do write quick notes or emails to the teacher. Email is a great way to communicate with teachers.
Remember to read all notes sent home and sign homework folders/agendas/etc. every night.
If you have time, volunteer! It might give you a unique perspective into what the teacher is dealing with on a daily basis.
The bottom line is, communicate. Stay in touch with your child's teachers from day one and don't wait until parent conference time to meet with them and discuss your child's needs and goals.