I am no stranger to driving buzzed. I've done my share of them, I am ashamed to say. When you're young and think you can do anything, driving buzzed is not unusual; sometimes it is even a badge of honor of sort. Forward a few years later, I'm older, a little wiser and more importantly I am now a mom and I realize what an idiot I was!
I was lucky I never got caught driving buzzed or, god forbid, got into an accident. Some of my friends were not so lucky though. A number of them were cited for driving under the influence and some got into minor fender benders. However, I remember at least two incidences when catastrophic events/accidents occured and my friends were never the same after that. One is paralyzed for life and the other is now mentally impaired. Sure, people will say, it could have been worse; they could have died or worse, killed someone. Regardless of how you look at it, buzzed driving IS drunk driving!
With another holiday looming, St. Patrick's Day is tomorrow and you know how we all love a reason to celebrate! And there is nothing wrong with celebrating, my mother has been celebrating St. Patrick's Day for as long as I can remember and she's not even Irish! Anyway, as a public service announcement, here are a few things to remember when you're celebrating and are out and about for this holiday or any other holiday:
SPREAD THE WORD ABOUT THE DANGERS OF BUZZED DRIVING
Designate a sober driver before you leave for your event.
Be ready to take alternate transportation such as a bus or taxi. Have the phone number of a taxi service stored in your phone before you leave for the party.
keep in mind that in 2008, 1,179 people in other vehicles were killed in crashes involving alcohol-impaired drivers.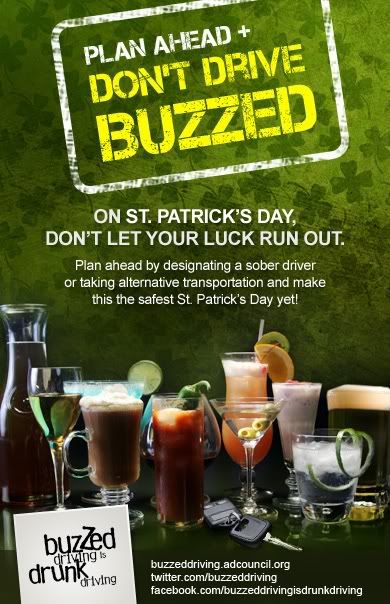 Global Influence is working with the National Highway Traffic Safety Administration (NHTSA) and the Ad Council as they continue their efforts with the Buzzed Driving is Drunk Driving PSA campaign. Buzzed drivers drink and drive, but do not consider themselves a hazard on the roadway because they have had 'only a few' drinks. The campaign hopes to educate people that consuming even a few drinks can impair driving and that Buzzed Driving is Drunk Driving.
To learn more about the impact buzzed driving can have on a life, please watch this important video about the financial and personal repercussions of getting a DUI: http://buzzeddriving.adcouncil.org/sign.php#video