I'm posting the Food Quote Meme on this blog this week just because this was our funniest meal time this week. Earlier this week I made pork chops and spinach for dinner. It was an uneventful meal, one that we have at least once a month because it's fast and easy to prepare after I get home from work. While we were eating dinner, my daughter received a picture text from her Aunt Sherry. Her Aunt Sherry and cousin Valerie were at Roy's Hawaiian Fusion having dinner and they sent a photo of their entree, Rustic Grilled Pork Tenderloin (photo #1).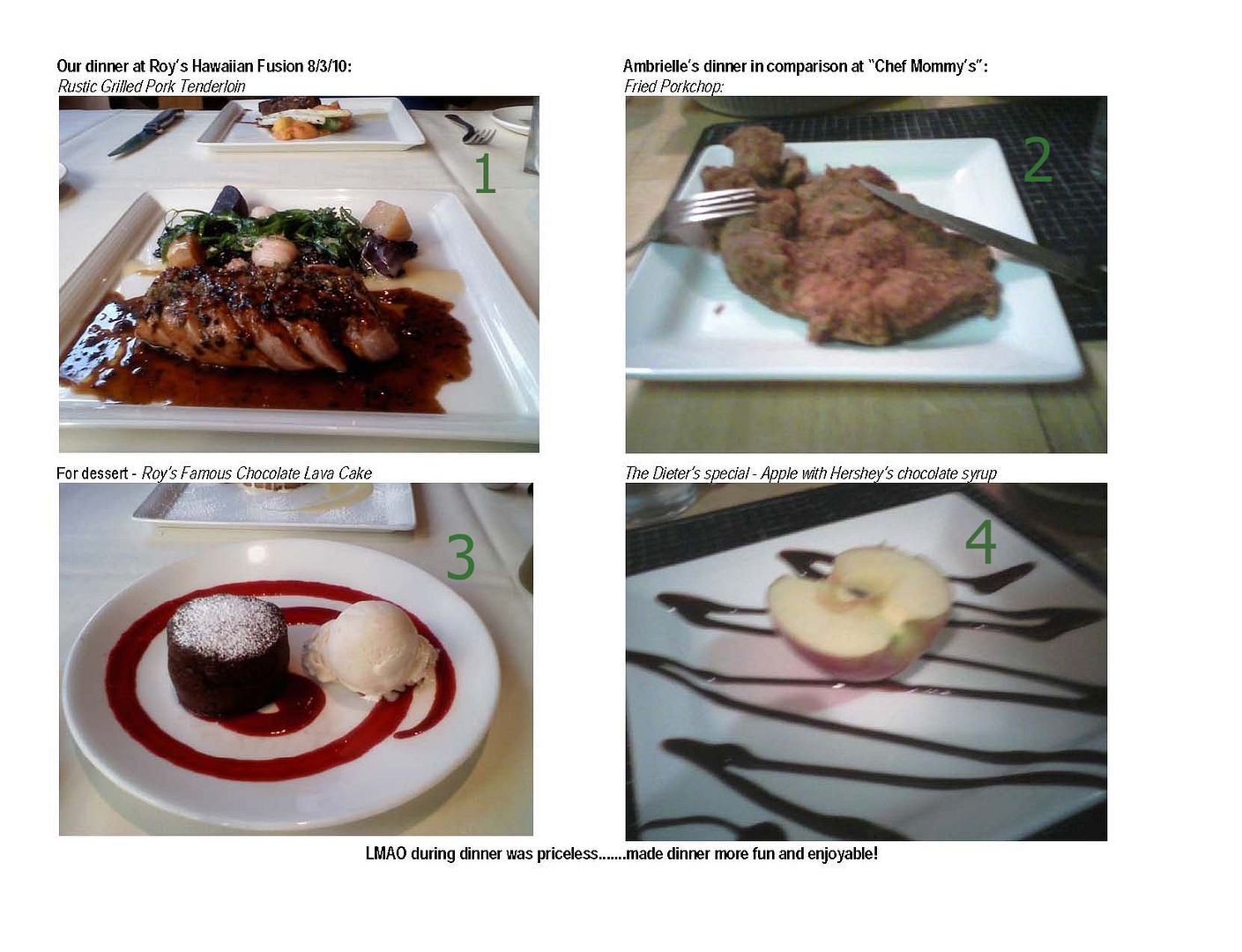 My daughter Jade, like most of us in the family, loves food. We become most animated when talking about food. So to tease her, her aunts would sometimes send her photos of what they're eating especially if it's something really good or if it's something that they know she would drool over. So when my daughter received photo #1 in the middle of our mediocre pork chop dinner, she picked up the biggest pork chop from the pile on the platter in the middle of the table and plopped it onto a similarly shaped plate as the one the tenderloin was served in, and sent it to her aunt.
Sherry and Valerie had a good laugh over that humongous piece of fried meat in the middle of the plate (photo #2), with Valerie texting back with: "OMG, what the heck is that?" By this time, we too were all giggling while we were eating. Sherry and Valerie were at their table at Roy's too, giggling over the comparison and attracting the attention of other diners with their silliness.
A few minutes later, they texted again. This time with a photo of their dessert (photo #3), Roy's Famous Chocolate Lava Cake. Well we hadn't finished eating our pork chop dinner yet and I didn't cooked anything for dessert anyway. So we were scrambling for ideas on what to send them next. Then we had an idea! Jade pulled out another square plate and drizzled some Hershey's chocolate syrup. I grabbed an apple from the bowl at the center of the table and cut it in half then plopped it in the middle of the plate. Jade took a photo (photo #4) with her cell phone and sent it back to her aunt and cousin. They texted back, "OMG, we are dying here!!! This is hilarious!"
We were also laughing so hard, I had tears in my eyes, imagining those two in their fancy schmanzy restaurant and Jade had a comeback for every dish they sent. LOL! Her Aunt Sherry made the collage of the photos they sent back and forth and she said, "LMAO during dinner was priceless….. made dinner more fun and enjoyable!"
It sure did. We had a great dinner and I bet we didn't even pay as much as they did. 😀