THIS IS NOT A SPONSORED POST!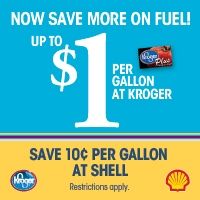 Kroger has gas! Nope, no puns there there all. They really do have gas, the fuel kind, and it's a bargain!

I love finding a good bargain and this week I am so excited about Kroger gas that I just had to share. My nearby Kroger store just opened a fuel station not too long ago but y'all know how I'm a Costco girl, so I always fuel up at Costco where their prices are generally 5-10 cents cheaper than regular gas stations.
I have been comparing prices with the new Kroger gas station too, and actually if you add the 10 cent discount you get just for being a Kroger Rewards customer, the price is comparable to Costco's. So I haven't had much of an incentive to switch over, it was just a good information to have for those times when the Costco station is closed. And that's pretty much how I've used Kroger's gas station. It was a back up source.
Imagine my surprise though, when I went to get gas there last week, and found the price for my gas 30 cents less than the lowest gas price! I had to double check to make sure my eyes weren't playing tricks on me, but apparently, I had enough points on my reward card that instead of the usual 10 cents discount, I received a 30 cents discount!
Amazing, right? I had just refilled my prescriptions at Kroger and apparently, that's what drove my points up!
If you're all confused about these points thing and gas prices, visit the Kroger website to find out how this whole gas discount works.